Tampa Picks Are Up
Check out my
horse racing blog
for the picks. Congrats to
CJ
for a huge $700 night last night. Big time.
False Advertising In Allentown
It's true. Large groups of women are unhappy with the size of your penis.
-- Spammy Spamowicz, in my email today
I can't find a home away from home when I'm away from home, and that makes me sad. I got in to Allentown late on Monday and not only got lost on the way to the rental car lot (no thanks to the ridiculously attractive top-of-my-league-but-still-in-it girl manning the counter), but got lost on the way to the hotel. I had to stop and ask for directions at a Pizza Hut, and didn't hit the hotel until close to ten. So I admitted defeat for the evening and walked across the parking lot for takeout at Damon's.
I fucking hate Damon's. It's like Applebee's without the personality, and that's probably as generous a compliment as I'm capable of delivering. All I wanted in my week was to find a family-owned Italian joint with a bar where I could have a couple glasses of wine and dinner - every night. I'm going to be stuck on this schedule for awhile, so forgive me if I want to inject some sort of routine I might enjoy into the drudgery. So Tuesday I did a little research and came up with two places nearby I would try.
Paese Mio was the first. They had a half page ad in the phone book and a fairly large, if not routinely uninspired menu. As a backup I had Mazzolo's II (I think I got that right), which was no smoking, but that's forgiveable if the food's good.
I drove out to Paese Mio and was disheartened to find a ramshackle 800 square foot restaurant/roadside stand. No bar, no liquor. Fuck. Off to Mazzolo's II. I got to the door, peered in the window, and saw fast food style booths and a cooler with pop and beer by the counter where one might place their order if "one" was "anyone looking to have a restaurant experience free of ambiance."
I went to fucking Damon's again.
Wednesday I asked a guy at work for a recommendation. He's a guy who obviously spends a lot of money on his clothes, and you've got to think he'd have some idea as to a decent restaurant in the area.
You'd have thought wrong, he recommended Carrabba's. I'm not going to Carrabba's, Macaroni Grill, or god help me Olive Garden. It isn't fucking happening. So more research was in order, and I found the winner. Chianti Italian Ristorante. The picture of the building on the Internet showed a big two-story joint, the menu looked good, and there was a picture of a table with a fucking tablecloth on it. And next door? A BMW dealership. How could I miss on this one?
I popped in around 5PM, and the parking lot was nearly empty. I walked up the stairs to the dining room and saw a couple servers and a cook talking in the doorway to the kitchen. "Hey, where's the bar?" I asked.
"Up the street."
I thought he was kidding. "No, uh, you guys have a bar?"
"Nope. We're BYOB."
What kind of conscienceless fuck names their BYOB joint "Chianti?" Seriously. What the fuck is wrong with this town? I couldn't possibly be more disheartened at this point, and decide to try to find a restaurant without a map. I ended up on Big Box Row and drove past the Best Buys and Old Navys dotting the boulevard, with anger piling up as I eschewed turning in to every Lone Star Steakhouse and TGI McFuckers I passed looking for the one lousy family owned joint I thought I might stumble upon.
No dice.
So I gave up and decided to buy liquor to bring back to the hotel and order a pizza. And don't get me started on how far away and inconvenient to my hotel the nearest beer and liquor stores are.
I hate this town.
As if karma is just piling on this week, I made it to the airport 90 minutes early on a beautiful Pennsylvania afternoon on Thursday. On the departure screen every flight was on-time... except one. Outbound to Chicago says "WEATHER." The ticket counter takes a two second look at my ticket and tells me there's no chance of getting home, and they'd be happy to rebook me first thing in the morning.
So another night in Allentown, a chance to stay in both of the area's Hilton Garden Inns, and a travel day on Friday capped by a drill and fill session with the dentist.
At least I got to see my dog again. Little dude was thrilled to see me. He's going to be pissed when I turn around and drop him off less than 48 hours from when I picked him up to do this shit all over again.
All except the flight cancellation and the cavity fillings I hope.
The job is good, it doesn't (currently) seem like anything I can't handle, and is a total no-lose situation for me. Unless, of course, I can't fucking find a decent Italian joint in shouting distance of my hotel next time...
Whew
A little drizzle in Chicago yesterday caused me an unexpected overnight stay in Pennsylvania's armpit, and yet another dinner of batter-dipped/breaded deep fried crap. Oh, and right off the plane today? I got two teeth drilled and filled.
So gamble with me tonight, won't you? We'll be watching the middle of the card at Evangeline Downs, and my picks are up at my
horse racing blog.
I'll be playing Tampa's card tomorrow too, so keep your eyes open for those going up tomorrow morning.
More later, after I down a plate of spaghetti and get my sea legs back.
Why?
Iggy
and I were chatting the other day about a certain blogger and how he (Iggy) was impressed with my restraint that I hadn't "opened up on the guy yet."
Yes, maybe I do at times fancy myself the "Conscience Of The Poker Blogging Community*" (TM), but when I went after some of the idiocy that's out there in the past, I felt like there were things that needed to be said. Flopsy, for instance, had the most passive-aggressive slam possible on our crew, and I wasn't going to let his carefully measured and qualified bullshit run without a counterpoint. The dude that stole Andy Glazer's nickname and writes that blog no one reads? He needed to be reminded that he's not on any sort of mountaintop dispensing knowledge crumbs to his hungry followers. His ego needed a bitch-slap.
*
You don't think I'm serious when I say that, do you?
This guy? Look, best of luck to him in a fledgling attempt to make a go of it online. The rest of it is entertaining at best, head-scratching at worst, and volleys violently between the two extremes nineteen times a post. If I don't know what to make of it, it's because I haven't really given it a lot of thought. I mean, I'm really horribly amused by some of the posturing, and I thought the fairly short and one-sided flame war with
Duggle Bogey
was pretty funny, but maybe I'm more willing to give credit for a little hyperbole where hyperbole's due** than some of you are. I'm not as SHOCKED! as some people seem to be in the wake of what's being perceived as misogyny or violence, because I can't imagine there's not some mix of swaggering ridiculousness that underlies everything he's saying. For those of us that "know people like this" or "know there are people like this," I think we all know that there are also people who want you to believe they're way cooler than the rest of class. While I'd try to do that by dropping a reference to a nibble off a madeleine before launching into 2000 words about not getting laid on prom night, some of us have, uh, slightly different ideas of cool.
**
Yes, I am fully aware this dude couldn't define "hyperbole," let alone spell or pronounce it.
You may not like this guy, but he's not the one who's the troll here. He's the one you probably don't want to poke with the short stick unless you want to beat your head against a brick wall trying to get your point across, but he's not the troll.
This guy is.
I'm not sure what corner of the blogosphere he crawled out of to be the clarion moral security guard for the rest of us. If these are his credentials, the credibility of the community*** sounds like it's in trouble:
But, I know the smart half of my marriage wouldn't allow me to go. I can't bring myself to just go without telling her. God forbid there would be an emergency and she couldn't reach me. Also, this make her think (probably rightfully so) that I may have a problem setting limits and being truthful. To be truly honest, she doesn't exactly know I'm playing with real dough on-line, although I've made it clear that I would be playing at some point.
By the way that's nickel and dime poker, not even in the figurative sense, that he's talking about there. Who elected this dude to be RoboCop? Seriously, is there a point and/or objective to which you're leading us here?
***
With all due tongue-in-cheek.
Frankly dude, you're looking really bad here. At least BloodyP and Waffleman are
trying
to be funny with the guy. I'm glad you (presumably) paid that $10 bet off, as it was pretty stupid to think the guy wasn't taking you (and the challenge) seriously when he sat down with the ladies the other night. And I totally (and shockingly) tend to agree with the Champ that there's no reason to sit down and play you heads-up at all. I mean, isn't this the knee-jerk for some jackass that you just busted on a rivered flush? "Come on, I'll play you heads-up. You suck, you're dodging me, you're a donkey."
Blah blah blah.
I'll put it this way guys... If you want to have some fun with the dude, have some fun with the dude. God knows he's an easy target. But if all you're interested in is whipping it out and proving you're the bigger asshole, why don't you take it offline before the rest of us lose whatever respect you may have earned up to this point? I don't see the point of spitting bile here, so why don't you take a deep breath and realize that if you don't let it go, he won't let it go, and you both end up looking like level nine retards by the end of the experiment.
Just my two cents. You don't have to like the guy or read him, but how about keeping the bullshit poison to a minimum?
Thanks in advance,
BG
Wondering Aloud
If you win
this auction
and the guy on the other end steals your money and doesn't supply the product, is that technically a
triple-cross
?
I actually kinda dig old school Catholic art. Were I to win the lottery, I'd have my reading room decorated with stuff in the pre-renaissance icon art style. The altarpieces in particular, especially the tri-panel stuff in a style like the picture below, are pretty damn cool.
Of course, then you have the bleeding disfigured head of the lord shit out there, which is either watching over your soul or about to climb off that cross and pull your fingernails off with a pair of rusty pliers, depending on your belief system. You want this guy in your bedroom?
Or how about this shot, seemingly fresh out of the 1960s grindhouse scene?
This is fun. The following piece is actually titled "Christ showing the wound in his side." It took almost 2000 years, but those beanies are finally back in style.
Don't plan on sleeping tonight.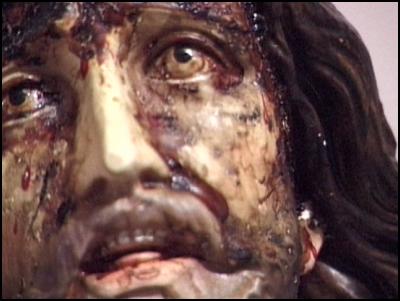 This one's from Bolivia, where apparently there is no will to live.
I found this one, where even the kids appreciate the theme.
Just in case you wondered if he did, in fact, suffer...
Lastly, from the files of "you've got to be kidding me..."
I'm not sure what screwed me up more - growing up among imagery like this or living with the Mormons for god knows how long. This was every girl I met in high school.
Yes, an entire post that's either just a flimsy excuse to post the bleeding skulls of Jesus, or an excuse to bump the audio post off the top of the page before I go out of town for a few days. You be the judge. Happy Sabbath to you all.